Step-by-Step Process and GMB Optimization
When potential customers are locked out and frantically searching online, will your services shine through on the first page? Dive into this roadmap, tailored for locksmiths, and transform those frantic searches into ringing phone calls.
If you're a locksmith business owner or planning to start one, understanding the nuances of SEO and Google My Business (GMB) management can be a game-changer. Here's a comprehensive step-by-step guide to help you navigate this journey.
1. Digital Diagnosis:
Know Your Audience
Your clientele isn't just searching; they're pleading for immediate solutions. Understand their urgent needs. You're targeting local customers in distress, needing immediate services, or those who plan ahead to avoid lockout situations.
Focus Keywords: 'urgent locksmith', 'immediate lock repair', 'fast locksmith response', 'local locksmith', 'emergency locksmith services', 'locksmith near me'.
2. Forge Your Digital Storefront:
Website Optimization
Your website is the digital storefront of your business. Ensure it's mobile-friendly, loads quickly, and provides crucial information upfront.
Essential Keywords: 'around-the-clock locksmith', 'trusted locksmith', 'local lock expert', '24/7 locksmith support','locksmith services'.
3. Precision-Tuning:
On-Page SEO
Tailor every webpage to address your potential client's possible queries.
Magnetic Meta Titles & Descriptions
These appear in search results. Make them compelling and keyword-rich.
Content
Craft engaging, informative content focusing on user intent and sprinkle relevant keywords naturally.
Key Phrases: 'commercial locksmith expertise', 'home lock solutions', 'auto locksmith aid'.
4. Expand Your Territory:
Off-Page SEO
Build credibility by procuring high-quality backlinks. Think of them as recommendations from the digital community.
Key Phrases: 'industry-leading locksmith', 'top-rated lock services', 'professional locksmith', 'licensed locksmith services'.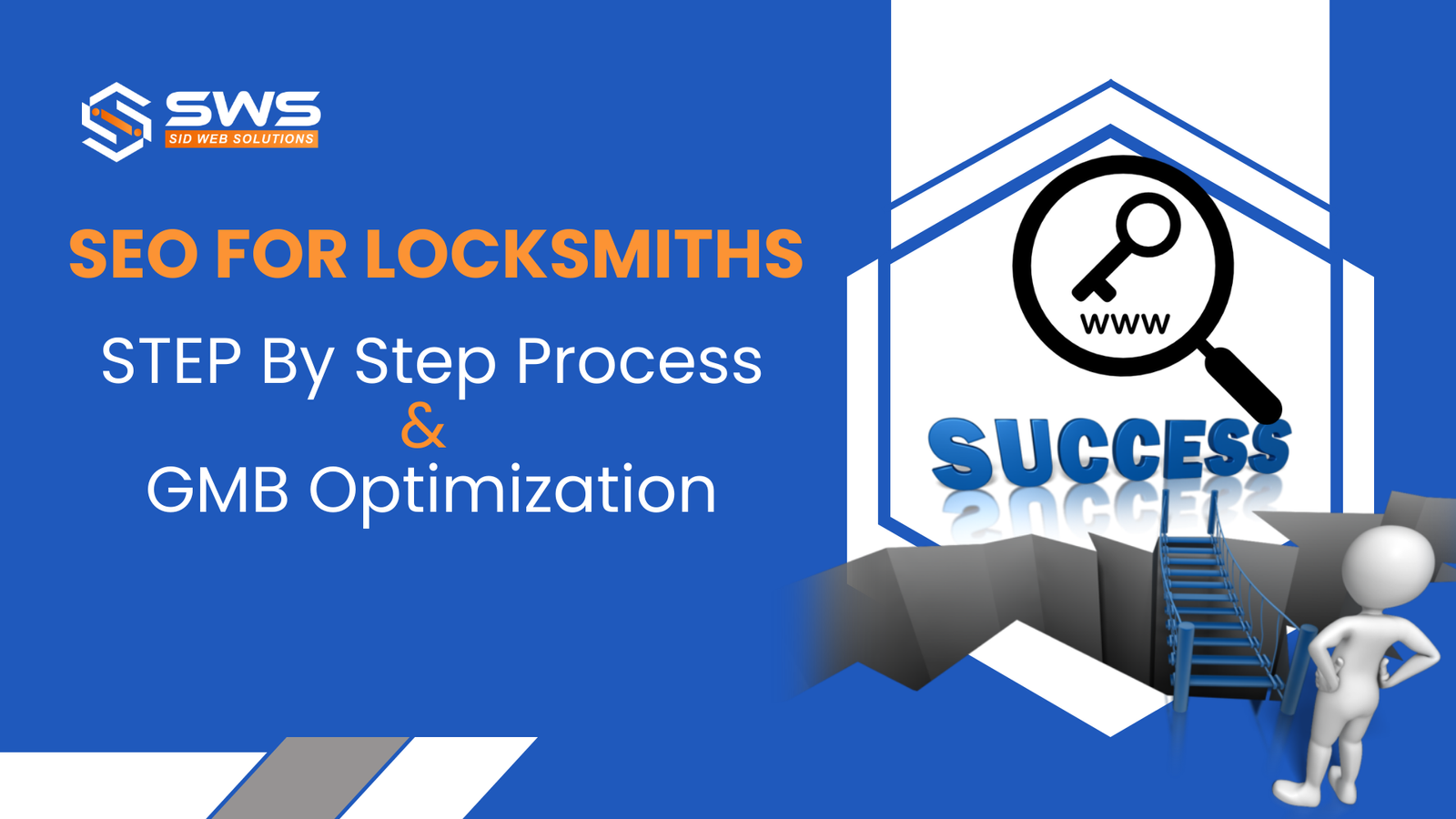 5. Claim Your Territory:
Local SEO & Google My Business (GMB) Management
As a locksmith, local visibility is paramount.
Claim & Verify:
Ensure you claim your GMB listing and verify it. This authenticates your business in Google's eyes.
Optimize the listing:
Add high-quality images of your business, staff, and work. Ensure your business name, address, and phone number (NAP) are consistent across all listings.
Reviews:
Encourage satisfied customers to leave reviews. Respond to these reviews, both positive and negative, showcasing your dedication to customer satisfaction.
Posts:
Regularly update your GMB with posts about offers, updates, or tips. This keeps your listing active and engaging.
Key Phrases: 'local locksmith', 'best locksmith service', 'neighborhood locksmith hero', '5-star locksmith services', 'Trusted locksmith in my area'.
6. Crafting Digital Keys:
Content Strategy
Regularly update your website with fresh, relevant content. Consider blog posts on topics like 'How to choose a reliable locksmith', 'Benefits of professional locksmith services', or 'Emergency lockout tips'.
Keywords: 'locksmith tips', 'choosing a locksmith', 'lockout solutions', 'Decoding the best locksmith tools', 'Why professional locksmithing beats DIY', 'Emergent lock trends in 2023'
7. Monitor, Analyze,
Repeat
SEO isn't a one-time task. Regularly monitor your website's performance using tools like Google Analytics. Understand what's working and what isn't, and tweak your strategy accordingly.
8. Adapt and Overcome:
Stay SEO-Savvy
SEO, especially
SEO for locksmiths
, evolves with changing algorithms and user behaviors. Stay updated with the latest trends and adapt your strategies.
Starting an SEO journey for locksmith businesses might seem daunting initially. However, with a structured approach, especially focusing on local SEO and GMB management, the path becomes clearer. The key lies in consistency, quality, and keeping the end customer in mind. Remember, in the locksmith business, trust is paramount. And with the right SEO and GMB strategies, you're not just optimizing for search engines; you're building trust with every click. You can consider
Sid Web Solutions
for SEO Services Locksmiths.